Meet our own most interesting man in the world: Pete Oxford
A lot can be said of Pete; Conservationist, Marine Biologist, Photographer, Wilderness Guide to name a few. You might have seen some of his breathtaking and award winning images while checking out issues of National Geographic Magazine, BBC Wildlife, Time Magazine, International Wildlife, WWF, or the Smithsonian. We sat down with Pete in between his travels to see what he and Renee, his wife, have been up to since we last have talked.
Catching up with Pete
Q: You've traveled the world, what is the most remote location you've ever been, and why did you go there? Heard Island in the South Atlantic. I was on an expedition covering that area including Kerguelen Island.
Q: You've won many awards and had your work featured in National Geographic — what is your most proud award to have received? Yes, I am a Founding Fellow of the International League of Conservation Photographers, I was awarded Ranger Rick Photographer of the Year and Ecuador's Photo Journalist of the Year in 2015, and I was recognized by Outdoor Photography Magazine as among the 40 most influential wildlife photographers in the world.
Q: So you are originally from the U.K. but now live in Ecuador — tell us about the journey and what inspired you to move there? I am a trained Marine Biologist so, after graduating I looked for anywhere to go to get out of the UK. I wrote to Nigeria, Singapore, Philippines, Ecuador, etc. Looking for work in Aquaculture (After graduating in Wales I did a two year stint designing, building and managing a lobster hatchery). I was "picked up" by friends who had gone out previously to Ecuador and settled on the coast. With the Galapagos just over the horizon it became too much of a temptation and I quit my job to go and live and work in Galapagos as a naturalist guide.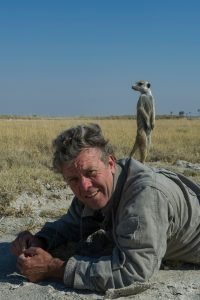 New Ventures on the horizon
Q: You've announced that you are starting a new company called Pete Oxford Expeditions — please tell us more about it. I have been involved in tourism for many years, leading trips repeatedly to all continents. Our new venture offers unique, small group expeditions for travelers and photographers to remote and pristine destinations and cultures around the world. Participation on a Pete Oxford Expeditions adventure will send the traveler home with a wealth of natural history knowledge, world-class wildlife sightings, photography support, unique cultural encounters and fun stories.
Q: Wow! I'm sold. What's the next trip and when are you going? We are heading out to Mongolia where we begin the adventure in the far west of the country and ride on horseback in the company of the famed eagle hunters who use their trained eagles to hunt. We will travel with them and their eagles, as they make their way to compete in the annual Eagle Festival. Our trip continues through the Gobi Desert and covers the highlights of the country.
Q: So what's going in the camera bag for that trip? As much as I can carry! As a photographer I specialize in being a generalist and hope to concentrate on wildlife, people, landscapes and macro images of some of the smaller desert fauna.
Q: We can see that conservation and helping indigenous people are really important to you. Are there any special moments that standout to you from your adventures? When I was working on a book about the Huaorani tribe deep in the Amazon Rain forest of Ecuador I had to charter a helicopter to get in to the community. It took off and left me there, the only non-Huaorani with the promise to return in three weeks. They were fantastic and treated me like family. What was theirs was mine. I slept in a small tent but could not reciprocate fully their generosity i.e. What was mine was theirs as it turned out… my computer cables were considered perfect for tying up the legs of the hunted Peccaries! I had to put a tiny padlock on my tent!
Q: Having visited so many countries are there any places left on your bucket list? Borneo is high on the list but I will be there soon. Next would be to the hill tribes on the island of New Guinea and the drier West African countries.
Q: We are proud to sponsor you and your adventures. Are there any features in our tents that you have found helpful while out in the bush? Reliable, spacious and easy to carry.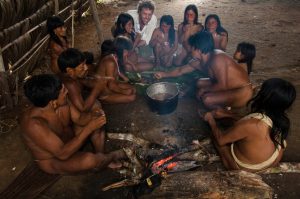 Pete enjoying a meal with the Huaorani tribe